May 24, 2014 By admin
Comedian John Fugelsang pointed out on Tuesday that a recent Supreme Court decision allowing Christian prayers by government bodies was making Justice Antonin Scalia's version of U.S. law look "a lot like Sharia law."….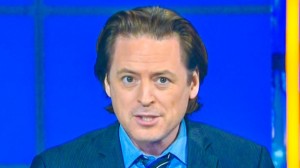 To read the rest of the story, please visit:  http://www.rawstory.com/rs/2014/05/07/comedian-john-fugelsang-on-government-prayer-scalia-law-is-a-lot-like-sharia-law/

February 1, 2014 By admin
Christie's image problem before NJ's big day
In "Trenders," California drought leads to a "dirty" Super Bowl request, while Sandra Fluke considers a congressional run. Ed Schultz and John Fugelsang discuss.
January 28, 2014 By admin
The Wendy Williams Show Dec 19, 2013
Should we assign a race to Santa Claus? Should kids register for birthday presents?
Find out what Wendy Williams, comedian John Fugelsang, E! News' Alicia Quarles and comedienne Judy Gold think about this week's Hot Talk stories!
January 22, 2014 By admin
Watch John Fugelsang Address The GOP's Response To Day One of Obamacare Sign-Ups (Video)
(via
Firebrand Progressives
)
John Fugelsang made an appearance on The Ed Show to discuss the overwhelming success of Obamacare on day one and the Republican's response to it. So many people were signing up on day one that there was some delay at times during the opening day.…
---

January 19, 2014 By admin
Barack Obama has advanced his Socialist agenda over the past four years. John Fugelsang explains it all.