(Note:  John Fugelsang wrote this piece originally for Tony Hendra's satirical site 'The Final Edition' and was published under the unfortunate pen name of Basil Pesto.)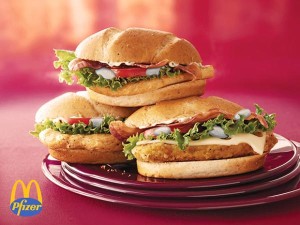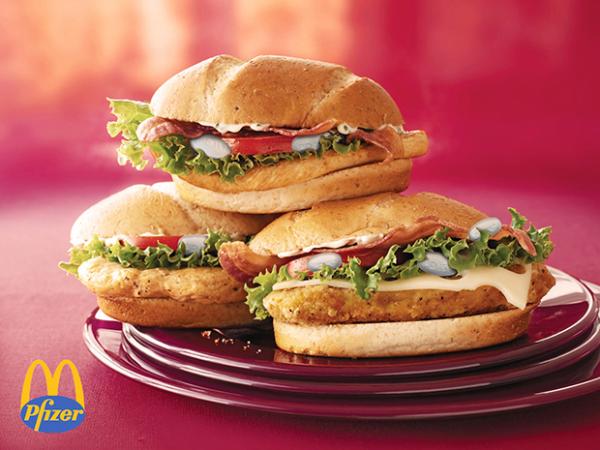 Last night's unexpected merger between Pfizer and McDonald's sent shock waves through Wall Street, the Pharmaceutical industry and the heavily-processed meat community.
"It was a no-brainer, really" remarked Pfizer CEO Ian Read. 'These beloved brands have long enjoyed a symbiotic corporate relationship.  We finally decided that as long as McDonald's is creating new patients for our medications – medications which keep their consumers alive and able to keep walking back to enjoy those 99-cent specials – why not work together?'
The top-secret negotiations, months in the making, sent stock prices soaring as McDonald's franchises unveiled a new "McHealth Menu" that reflects the revised business model of McDonald's/Pfizer (now listed as 'McPfiz' on the S&P 500).
'The New McBLT, featuring Bacon, Lipitor & Tomato, redefines health & commerce' says Fred Golgoth, McDonald's VP of  Globalization & Happy Meal Toy Development.    'It's a logical progression – together we'll give people the tasty food products they love, and, should said products threaten their health, we also provide the drugs to neutralize that threat."
New meals include the  Angus Chipotle Zithromax BBQ Burger, which provides powerful antibiotics to combat fungal infection, in addition to the undetermined antibiotics injected during a cow's short life before slaughter.
Customer activity indicates strong approval for the merger amongst McDonald's regulars.  At a franchise in Bullwhallop, Texas, hungry diner Sue Gompfolker opted for the Premium Crispy Chicken McLyrica Classic.  "I've got a generalized anxiety disorder, and this allows me to get the anticonvulsant I need, with the bacon I crave."
Ms.  Gompfolker's elderly mother,  Anna, opted for the Big N' Tasty Celebrex  Burger with Mushrooms & Swiss.  "Why should I worry about the colon polyps when I'm also eating the cure?" she merrily chirped from her mechanized scooter.
Upcoming entrees include the Premium Honey Mustard Diflucan Wrap (with co-pay),  the Southern Style Grilled McDouble Viagra Wrap (Ranch),  and the all-new McZyloprimRib with Red Meat Wrap for gout sufferers.
"It's the circle of life" remarked McDonald's VP Golgoth. "Pfizer had the vision to partner with the largest fast-food chain in the world."   When reminded that Subway recently surpassed McDonald's as the largest chain,  Golgoth replied "Yes, but we've still got the largest customers."
The newly merged company has already secured preliminary approval from Health and Human Services for Medicare and Medicaid to cover the cost of select McDonald's Health Menu meals. A small co-pay may be required where brand-name drugs are used, or HHS deems the risk to the public health to be abnormally high.
Future corporate plans include development of a nationwide Insurance Provider Network, tentatively titled 'McHMO.'
4 Comments